2018 Testimonials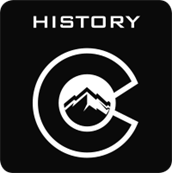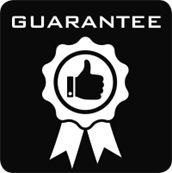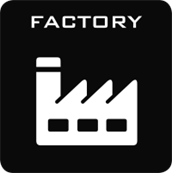 1/15/2018

Our house in the mountains is on well water, and even with prefiltering the water to fill up the tub, it had come in quite murky. I let the filtering system and ozonator run for 36 hours, and when I came back the water was crystal clear. I would recommend Wind River Spas to anyone with well water that needs significant filtering before hot tubbing.

Matt Kessler

Fairplay, CO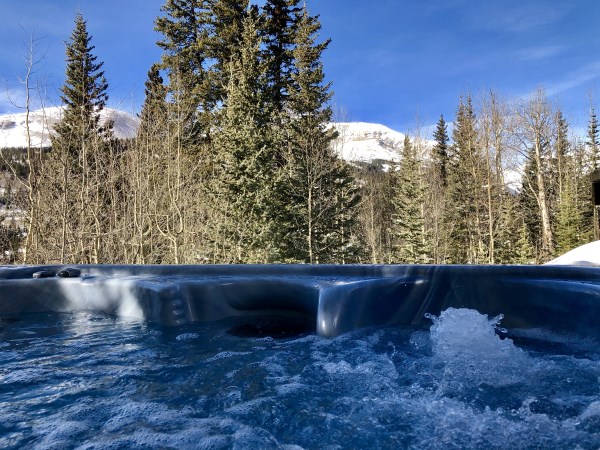 3/2/2015

Hey Rick,

Your service guy was awesome!. He stayed in touch with me all through the process we had to go through here with some electrical issues we had that had nothing to do with you guys, but was related to our service panel. After all that was resolved, he called us last night after he got home (on Friday night) just to make sure we were okay. We are very impressed, though not surprised, because we had done lots of research on your company before we bought, and knew your customers were very high on your customer service.

They were right! We are more than happy with your project and your service.

But thanks a lot for checking, and give you service manager a gold metal from us. Just like everyone else I have interacted with at Wind River, he was absolutely amazing!

Christopher K. Travis

Pine CO.
3/15/2018
Thanks again to Wind River Spas. We bought our Steamboat model in the fall of 2016. Our WRS experience started with Tyler in sales. He was great and answered so many questions so we could make a pretty educated purchase, particularly on how WRS stacked up against the competition. The delivery process was seamless. I had our electrician present during the delivery and your team made it look easy. They even came back to make some minor cover adjustments for free since I changed my mind on the location of the lift. Our cabin is at 10,200 feet and in a pretty remote area outside Leadville Colorado and your team scheduled it quickly with no hassle. We have had no service issues since. The filtering system is no joke. I have numerous friends with hot tubs and they are always messing around with chemicals and adjusting treatments. I literally do nothing to our tub except changing/rinsing the filter as recommended and shocking it after each use, again as recommended. For times when we do not visit the cabin for 4-8 weeks, I simply add a floaty that slowly dispenses small round chlorine tablets so there is at least some treatment during long absences. I put the floaty on the lowers setting. If I used the tub weekly, there would be no need for the floaty. My water is crystal clear all the time and we even used well water to fill it. Amazingly simple to maintain.

Recently, the tub freeze warranty was tested. It had been about 4-5 weeks since I was at the cabin. The power goes off frequently in this area. Normally everything resets and there are no issues. But, sometimes there are surges when it comes back on which can trip our hot tub breaker. I showed up last weekend and the tub was hovering around 32-33 degrees with nothing freezing. I was amazed. My guess is the power went off weeks ago. I flipped the breaker and the warmup cycle started right back up. By the next day I was enjoying the hot tub at a comfy 102 degrees with our amazing views of the Sawatch Range. Doesn't get much better and I would highly recommend WRS to anyone! Thanks again to you, Tyler and your team.

Adam Wiens

Leadville, CO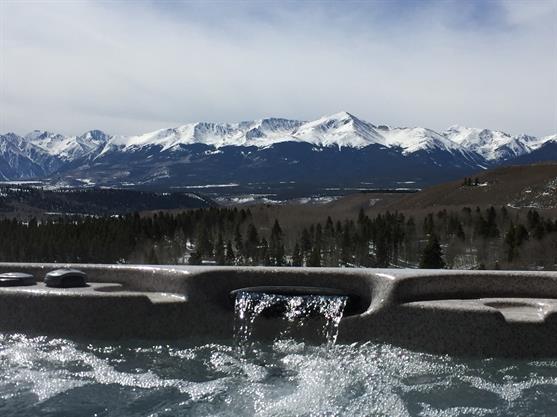 4/2/2018


"We shopped all the hot tub stores in town and decided to settle on the best. Totally sold on Wind Rivers Spas as our only choice brand, we purchased the Mesa and were pleased working with Rick and the Wind River Team."

Thanks

Eric and Debbie Mortag

Aurora CO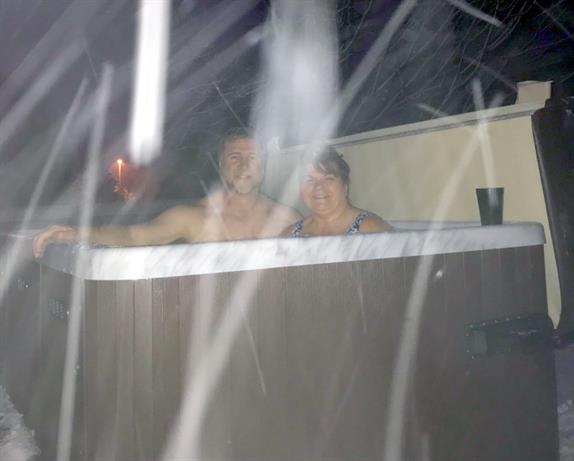 04/02/2018
We did a lot of research prior to deciding on Wind River Spas and all of the glowing reviews we read proved to be accurate. As prior hot tub owners, we were very well aware of a lot of the problems hot tubs owners can run into. We love our new Wind River spa - it is all we had hoped for an more. We are equally impressed with the quality of the product and the people who work for Wind River. All of the folks we dealt with were so helpful, professional, and informative. From our initial visit to the showroom to the delivery of the spa, we could not have asked for a better experience.

Both my husband and I have some pretty significant back problems related to spinal injuries and surgeries. We also are facing general aches and pains from getting older (not that old yet, but we know that this is not going to get better in the future). We have been using our hot tub every day since it arrived and both of us have noticed that we feel better and have been sleeping better.

As prior hot tub owners, we were well aware of some of the major problems hot tub owners face - leaks that can not be repaired, the cost to run many hot tubs, and the difficult task of draining and cleaning some hot tubs. Wind River spas are designed to solve the leak and cleaning issues and are so well insulated that they are much less expensive to operate.

Based on our experiences with our old hot tub, we had given up on having a hot tub. But as we started having more physical problems, and after my physical therapist suggested that using a hot tub would likely help with my recovery and rehab from an additional recent back surgery, we decided to try to find a hot tub company that built a high-quality product that would not have the types of problems we had with our old hot tub. We were sold on Wind River when we discovered that these spas are constructed so that if there is a leak, it can be easily fixed. They are also well built for our Colorado climate and are very well insulated for much lower energy use. We have also been quite impressed with the design - the number of powerful jets and their locations provide for a full body massage, including our necks, which is something our old hot tub did not have.

We have already recommended Wind River Spas to friends who are starting to think about getting a hot tub. I tell them to not waste their time looking at other companies - just head to the Wind River showroom and be prepared to be impressed.

Thanks.

Mary West-Smith

Boulder, CO
5/13/2018

Rick your crew was outstanding!!! We went with Wind River because of your exceptional reviews and Customer Service, you exceeded our expectations 10 fold. From Kevin staying a little after closing on a Friday afternoon, to Ray, Zach, and the big fella with dread locks and the helper they brought along.....5-Star. You should be very proud of the guys representing you in the face of the Customer.

As Colorado Natives, we could not be happier with the choice we made choosing an OUTSTANDING Colorado company.

Kudos on another VERY SATISFIED CUSTOMER!

Greg & Tina Wetzbarger
Erie, Colorado
5/11/2018

Rick,

I used the hot tub for the first time this morning and It was awesome! The young man that went over the instructions that was in charge of the install was a great help. I was surprised when he said he would be willing to stay at my house until the tub filled up and he would start it. I told him no thank you and that shows a deep dedication to your company. That young man deserves a raise.

While in my hot tub I will be reading up and watching videos about my Wind River hot tub. Thanks again for all the follow up and the great work you guys do.

PS: I do know that young man is your son and he did a great job.

Sincerely,

Rumsey Tirrill
Castlerock, CO
7/31/2018


Rick,

Thanks for another great hot tub. This is our third! Ever time we've moved we've bought another, and each is better than the last. The installation was flawless, and the maintenance is a breeze.

Pete Titsworth

Winter Park, CO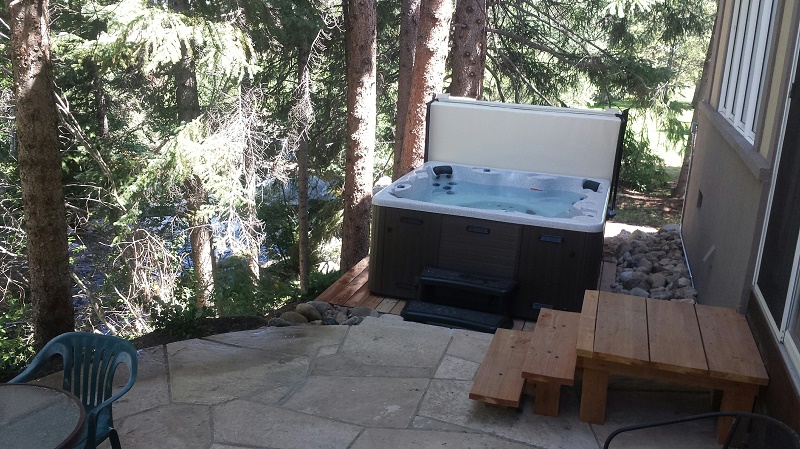 08/03/2018


Rick,
Now that our spa deck is back together after removing our old Hurricane Spa and replacing it with a Vail Spa, I wanted to share with you why we came back to Wind River Spas. We purchased our first spa for our current home from you in October of 1998. Yes, we purchased our first spa almost twenty years ago this October and due to both the way it was built and the outstanding service we received from your staff over the years, our investment lasted as long as it did. As a retired civil engineer, my life has always revolved around spreadsheets to organize and evaluate data. The below graph documents the cumulative cost to maintain our spa over the past 20 years - costs shown are related to repairing the spa and not chemicals or other items associated with owning and maintaining a spa. Note that the first service call we made to Wind River Spas was almost eight (8) years after purchasing it. Speaking with your service personnel, I was told that our Hurricane spa outlived its design life by at least a decade! I doubt any other manufacturer of spas can make that claim regarding the overall quality and longevity of their products.
I must tell you that the removal of our old spa and the installation of our Vail spa was flawless and your team of installation specialists were both professional and a delight to have at our home. Once the spa was ready to enter later that day, both my wife and I were so pleased we finally decided to replace our old spa as the features of the new spa are amazing! The spa heated up so quickly and was ready to enjoy several hours after I finished filling it. The below photos give you an idea of both the setting of our spa and our view. We both can't thank you enough for providing our home with a great product and service. Also, your website clearly out shines the two spa manufactures we initially were looking at. The content of your website - videos, instructions and ability to look at various spa colors and jet configurations made Wind River Spas the unambiguous choice. We look forward to another 20 years in our Wind River Spa.

Respectfully,
Howard G
Boulder, CO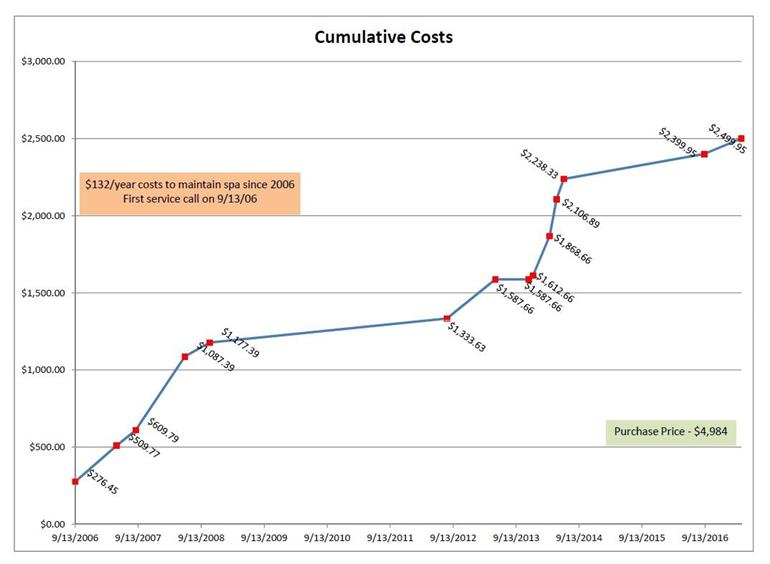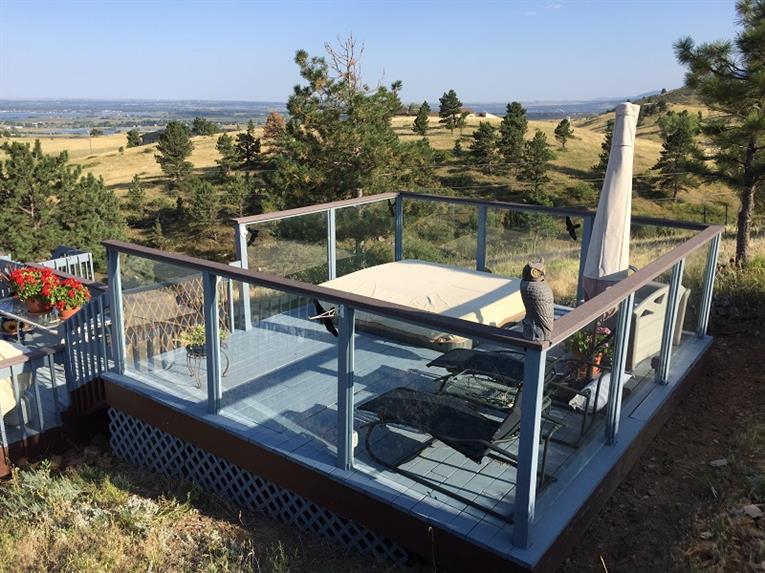 8/8/2018


Rick and Kevin

"We are loving our spa it's the jewel in our backyard rehab. The transformation from a pool to an entertainment area with a spa, outdoor living room with a projector to watch movies, it feels like a resort!

I enjoyed the video and performed maintenance to step by step... big help."


Cheers,
Chris Ortega

Lafayette, CO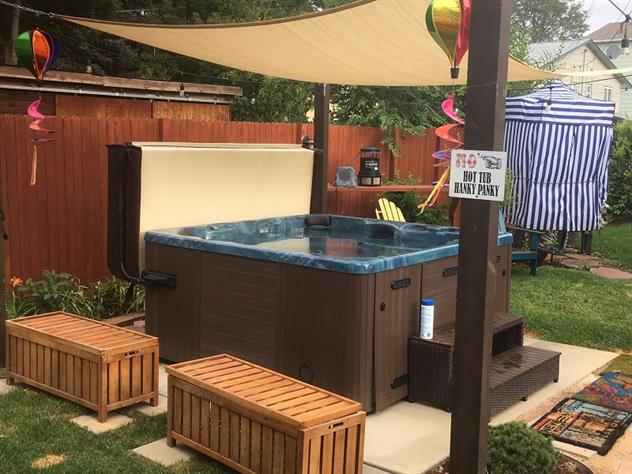 08/16/2018


Rick,

I cannot overstate how delighted we have been with everything related to this spa purchase. Every single employee we have met was as professional as they come - polite, thoughtful, practical, and exceedingly helpful. We had a couple of snags getting delivery coordinated with our landscaping company and your team was on top of everything, constantly checking in to make sure our needs were being met. And the tub itself is perfect in every way. The thoughtful design and simple maintenance give us comfort knowing that everyone from our 80+ year-old parents to our teenage children can all safely and properly use the spa. We have been enjoying it almost every day!

We almost didn't stop by your showroom because we assumed that, based on the outstanding testimonials and quality marketing, your spas would be outside of our price range. We were thrilled to find that your prices were very competitive for a superior product. We are recommending you to everyone we know.

Congratulations on your outstanding business and THANK YOU!

Melissa Menter

Greenwood Villiage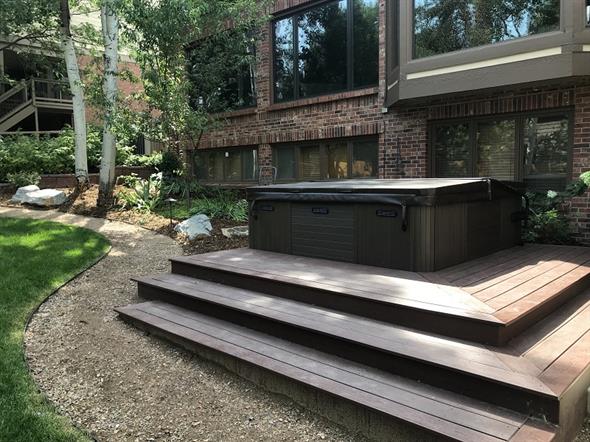 08/31/2018


The experience with your crew couldn't have been better. You have consistently exceeded expectations, and have set the bar so high with your customer service that I doubt that anyone will ever match the standard of excellence that you've achieved. 10++

We thank you and your team!

Cam Vuksinich

Denver, CO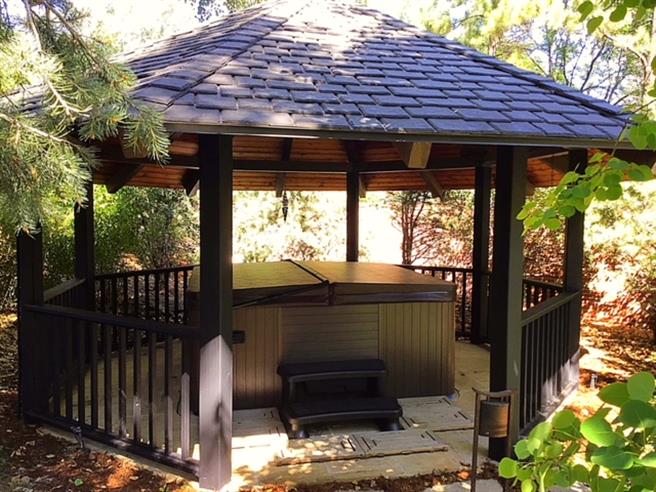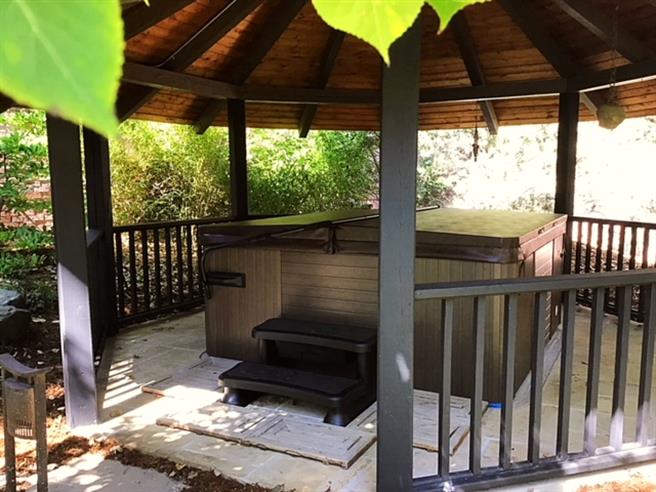 09/01/2018


Hello Rick,

We got our beautiful new hot tub yesterday! This is our second Wind River tub. We didn't look anywhere else because my husband appreciates how easy it is to service. We got the biggest one with lights and music so our adult kids will come home to play with us!

I wanted to let you know how much we appreciated the service we got from your entire team. Zach was the first person we worked with at the showroom. He was so helpful and thorough. Who knew there are so many details to know about a hot tub?! Then Nick helped me finalize our decision on just the right tub. He was very patient with my indecision. These guys assured me the music thing was worth it, and easy to use. It's so cool!

The delivery guys were great! Marcos, Stash and Zach (I may getting a name wrong.) worked with us to get the new tub set up just right. And they graciously worked with the guy buying our old tub.

And one more thing for you. Your refund policy was really helpful. Most companies don't let you cancel up to the day before delivery on a custom product. Thankfully, we didn't have to use it, but it was down to the last day for us. We were arguing with our insurance company about payment. It all worked out, but I did have to keep assuring my husband that we'd only paid $50 and the order was cancelleable.

Thank again for a terrific experience.

Steve and Carol Davis

Denver, CO
09/0502018


Hello Rick.
Thanks for checking in. Everything is working great with our spa and we couldn't be happier. Thanks for providing such great service before, during and after our purchase. We will certainly recommend you to our friends.

Best Tara & Eric Byrnes

Littleton, CO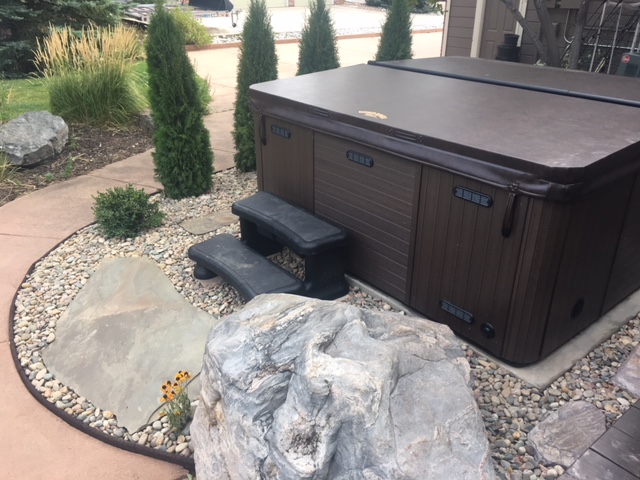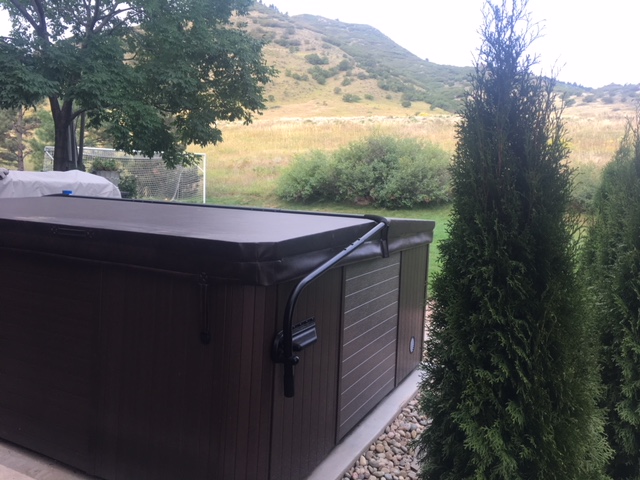 09/10/2018

We purchased the original tub in 2004 and were so happy with its performance that we purchased another Wind River. Nick and the install team were great - you have a first class team.

Thanks, Jeff & Lisa Chevalier
Golden, CO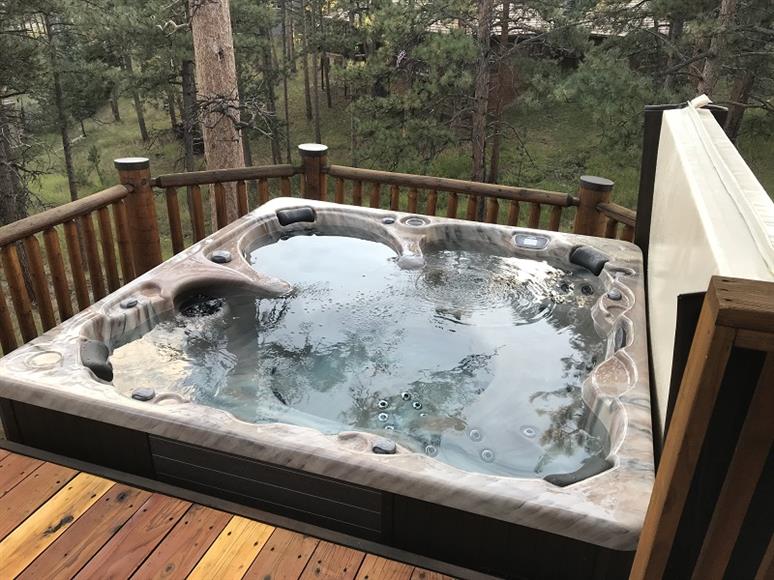 09/21/2018


Going into buying a hot tub, I literally knew nothing about the industry or the products. There is a A LOT of ways to buy a hot tub in today's market from online retailers, big box stores to numerous "boutique" hot tub stores in strip malls in surrounding neighborhoods. All local retailers like to tell you they have the best hot tub on the market, all for various reasons. Being a first time hot tub buyer, it worried me also buying one online, as you literally have no support after buying the tub, in regards to any general questions you might have.

I have a very analytical mind and like to do a lot of research before buying a product. I found that there is not much available in way of comparison between brands when doing research, i.e. there is no consumer reports for hot tubs. Also, numerous brands are all made by the same manufacture, so how do you know the difference between the tub your looking at? This drove me bonkers, as it was up to me to talk with retailers and determine which product I felt was best for me.

The reason we picked Wind River Spa's, was the I felt they offered the most transparency of any hot tub retailer in the area. You can go online and watch numerous videos on the operation of the tub, how the tub is built and see exactly what type of components go into the tub itself. Since your buying something that has numerous moving parts and is filled with water full time, you know its only a matter of time before something breaks. Its AWESOME that Wind River sells all components online, so you can determine the true cost of owning a tub, when that time comes (which shouldn't be for long time) you know what your getting yourself into. Also being a Colorado native, I found it very comforting buying from local company, that not only sells it tubs in Colorado, but manufactures them here also. It is also comforting knowing the tub is made in Colorado, for the Colorado climate.

We also picked Wind River Spa's for the sales experience. When we went into the showroom, we meet with Rick the owner. One thing I found interesting is most hot tub stores, don't have the shells off the tubs in the showrooms exposing how the tub was made. Rick walked us directly over the tub in the showroom, which was fully exposed underneath and explained how all the components work. He did not try to pressure us into buying one particular tub and in fact told us that Wind River hot tubs are made the same from the cheapest to the most expensive model (it was just whatever add-ons and size that makes a price difference). Going through the buying process he answered all my e-mails and texts (which is not always easy when dealing with me). We also found it very beneficial having Rick come out to our house and explain how the wiring of the tub works and best location for the tub. We had also thought about purchasing the extended warranty and Rick in fact told me to wait to see how the tub performs while under warranty and said we can add the extended warranty at anytime prior to standard warranty expiring. The delivery staff did a good job explaining how the tub works and how to maintain the tub.

Cannot say enough about the company, its owner and employees. It was quite a refreshing experience, especially in an industry that is somewhat hard to understand. Great job Wind River Spas!!!

Andrew Luft

Centennial CO.
09/25/2018


Rick,

We absolutely love the spa! Someone in our family uses it every day. All of our children are athletes and the spa has been very helpful in dealing with some of the aches and pains associated with their sports. Its also been good to just hang out together with them as a family at the end of the day. However my favorite time to use the tub is first thing in the morning when they are all still asleep! The tub has been hassle free and we have had no issues. Thanks for making a quality tub!

Chad & Laura Weldon

Arvada, CO
10/02/2018


Hi Rick,

We absolutely love the new spa! We've been using it every day since it was ready to go this past weekend, and are so happy with the small size - fits perfectly on our patio. Thank you for all of your help getting everything scheduled this past month and helping with the tweaks along the way. We are so happy to have found your company and are glad to be able to support a local company! The install was super easy too - your team was great!

Nicole & Eric Iverson

Littleton, CO
10/29/2018


We are loving our new hot tub!!! You are all amazing at Wind River Spas!!! You made our decision easy with no buyers remorse! :) Your staff is knowledgeable, kind and helpful. The guys that removed and delivered our spas were so helpful and gracious. I will certainly be recommending your company to anyone in the market for a new spa.

My favorite part of working with you is that you never tried to up sale anything. You presented all the options and allowed us to choose the right spa for us and our budget. We are super happy with our choice….and we didn't break the bank! Thank you again for all you did for us!

Sincerely,

Shelly and Chris Jones

Denver, CO
11/6/2018


Dear Rick,

I'd like to thank you, the owner of Wind River Spas. Thank you Rick for producing such a well-designed hot tub - chemical free, high efficiency, therapeutically purposed, overwhelming warranty, beautiful cosmetics of shell, skirting and jet layout, meticulous construction and long-term durability of components. Thank you Rick for manufacturing these spas in Colorado (Lafayette) and employing Coloradoan to make them. Thank you Rick for running such an ethical, honest and well-managed company. Thank you Rick for treating your employees so well which was evidenced in the way your staff performed that delivered and placed our hot tub - they were happy, confident, experienced, respectful and professional problem-solvers who obviously enjoyed working for Wind River Spas. Finally, thank you Rick for the way you treated my wife and me in assisting us to understand the reasons for the superiority of your products, in the ease of purchasing our spa, in the ethical way you dealt with us, in the delivery and set-up of our spa and in your accessibility and in the follow-up your kindly provided.

Gary Houser
Very Happy Wind River Spa Owner

Centennial, CO
Wind River Spas Testimonials By City
---

View Yelp Reviews >

View Google Reviews >