Centennial, Colorado Testimonials
3/6/13

Rick

Our Wind River Spa is one of the best investments we have made. The Wind River staff was great to work with from our first interest to the delivery of the product. They made sure that every detail went smoothly and that our spa was ready to enjoy worry free within a day of installation. The minimal chemical design of Wind River Spas is a huge plus. We have not only enjoyed the therapeutic benefits of the spa, but have found that it has created valuable family time.

Jim and Mary Nichols
Centennial, CO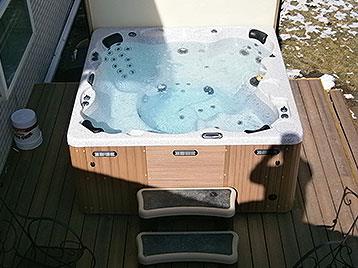 ---
8/5/12

Two things are rare in business: Quality, and Integrity. As a company and as individual personnel, Wind River Spas has both. Rick – the owner of the company – spent over an hour in the showroom answering our many questions with patience and in a no-pressure manner. We had questions about the install – he answered them and made recommendations. We had concerns about the suitability of our site – he came out to our home and personally surveyed the situation!

As an engineer, you better believe I looked into how spas are designed and built and I am here to tell you that there is only ONE rational choice: Wind River. There are less expensive spas out there – forget it. Wind River spas are reasonably priced and very well engineered and built for the long-term – especially for high-altitude Colorado.

We were 'wowed' at every step of the process and we, literally daily, enjoy the soothing comfort of our new spa. My favorite feature on the spa? Sounds a bit silly but I absolutely love the 2 jets that massage your feet! There is absolutely nothing like it – truly heaven on earth!

Bruce and Kristi
Centennial, CO
---
9/20/10

Hi Rick: We are enjoying our new Wind River Spa very much. This spa is a luxury compared to our previous one. The color combo works well, I like looking at it from my kitchen window. Delivery was flawless, the crew was polite, clean and knowledgeable. The crew cleaned up everything before they left. They had work to do and they did a fine job. The steps are a great addition and I feel safe using them. Thank You for all your good service.

Bill and Alice Tringl
Centennial, CO
---
4/2/10

Rick:

The spa is Incredible. Consider this a testimonial for you guys.

Installation --Like clockwork. Just like you said.

Bought new patio dining set today to go with it. Tub has already improved our lives. Sat in it for 5 1/2 hours off and on last night. Could not be happier -- worth every penny.

Rick, You are a pro. Thank you for everything. We are very happy customers. Would be more than willing to refer people to you. I know they will be taken care of, like we were.

We will have a fire again tonight and the tub. 100 degrees is perfect for us.

Jeff & Tami Baird
Centennial, CO
12/12/2014

Rick,

I have to begin by telling you that I have had a spa for the last 14 years and that this spa was part of the sale when I purchased my home. I had never owned one before and was somewhat excited about having one. Fast forward 14 years, the old one gave out and prior to it giving out, I had grown tired of dealing with its up keep. Multiple covers due to the dog, countless chemicals and filter changes and given its size and shape, not a lot of interest in using it since it only had 8 jets. This summer it became time to either replace it or just get rid of it. So my research began since I had never actually purchased one before. I spent hours researching on the web, stopping by retail shops, etc. Then one day I found your companies you tube videos about how your spas are different. I watched all of the videos you have and called you up. Justin is the sales person I spoke with and after talking with him I came by your showroom on Galapago and had a longer discussion with Justin, I explained to him that I had a budget number and was going to have to stick to it. This led us to the refurbished side of your business. There was nothing in stock at the time, but we agreed to keep in touch and he would let me know when something came in.

Late last month, I was checking back in with Justin and he gladly informed me that a few had come in. So after meeting with him again and going through the inventory, I was able to select one that was in my price range. We scheduled the wet test and delivery and we received our spa on Friday the 21st of November.

The spa is working great and is everything I had hoped for. The pickup and delivery guys were fantastic, very courteous and were on time. They were efficient in their duties all the while entertaining my banter. Justin was and continues to be very professional and attentive and it is clear that customer service is very important to him. I own a service business and this alone is what makes or breaks a business since quality of customer service is what sets you apart. Please look up my order to see who picked up and delivered and make sure they know that I appreciate their level of service. Since the delivery, I stopped in one Saturday to pick up some chemical and although Justin was not there, the person that helped me was just as fantastic.

Since I have been working with your company, I continue to tell my story to anyone that will listen as I have built my business on referrals and I fully appreciate the value in building good customer relationships.

Job well done to you and everyone at Wind River Spas!

Jack Smith
Centennial, CO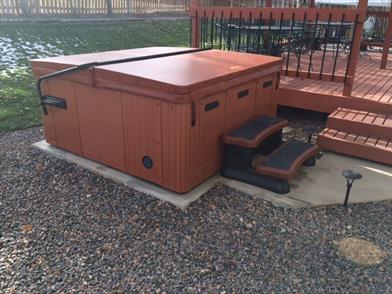 ---
09/21/2018


Going into buying a hot tub, I literally knew nothing about the industry or the products. There is a A LOT of ways to buy a hot tub in today's market from online retailers, big box stores to numerous "boutique" hot tub stores in strip malls in surrounding neighborhoods. All local retailers like to tell you they have the best hot tub on the market, all for various reasons. Being a first time hot tub buyer, it worried me also buying one online, as you literally have no support after buying the tub, in regards to any general questions you might have.

I have a very analytical mind and like to do a lot of research before buying a product. I found that there is not much available in way of comparison between brands when doing research, i.e. there is no consumer reports for hot tubs. Also, numerous brands are all made by the same manufacture, so how do you know the difference between the tub your looking at? This drove me bonkers, as it was up to me to talk with retailers and determine which product I felt was best for me.

The reason we picked Wind River Spa's, was the I felt they offered the most transparency of any hot tub retailer in the area. You can go online and watch numerous videos on the operation of the tub, how the tub is built and see exactly what type of components go into the tub itself. Since your buying something that has numerous moving parts and is filled with water full time, you know its only a matter of time before something breaks. Its AWESOME that Wind River sells all components online, so you can determine the true cost of owning a tub, when that time comes (which shouldn't be for long time) you know what your getting yourself into. Also being a Colorado native, I found it very comforting buying from local company, that not only sells it tubs in Colorado, but manufactures them here also. It is also comforting knowing the tub is made in Colorado, for the Colorado climate.

We also picked Wind River Spa's for the sales experience. When we went into the showroom, we meet with Rick the owner. One thing I found interesting is most hot tub stores, don't have the shells off the tubs in the showrooms exposing how the tub was made. Rick walked us directly over the tub in the showroom, which was fully exposed underneath and explained how all the components work. He did not try to pressure us into buying one particular tub and in fact told us that Wind River hot tubs are made the same from the cheapest to the most expensive model (it was just whatever add-ons and size that makes a price difference). Going through the buying process he answered all my e-mails and texts (which is not always easy when dealing with me). We also found it very beneficial having Rick come out to our house and explain how the wiring of the tub works and best location for the tub. We had also thought about purchasing the extended warranty and Rick in fact told me to wait to see how the tub performs while under warranty and said we can add the extended warranty at anytime prior to standard warranty expiring. The delivery staff did a good job explaining how the tub works and how to maintain the tub.

Cannot say enough about the company, its owner and employees. It was quite a refreshing experience, especially in an industry that is somewhat hard to understand. Great job Wind River Spas!!!

Andrew Luft

Centennial CO.
Wind River Spas Testimonials By City

View Yelp Reviews >

View Google Reviews >
11/6/2018


Dear Rick,

I'd like to thank you, the owner of Wind River Spas. Thank you Rick for producing such a well-designed hot tub - chemical free, high efficiency, therapeutically purposed, overwhelming warranty, beautiful cosmetics of shell, skirting and jet layout, meticulous construction and long-term durability of components. Thank you Rick for manufacturing these spas in Colorado (Lafayette) and employing Coloradoan to make them. Thank you Rick for running such an ethical, honest and well-managed company. Thank you Rick for treating your employees so well which was evidenced in the way your staff performed that delivered and placed our hot tub - they were happy, confident, experienced, respectful and professional problem-solvers who obviously enjoyed working for Wind River Spas. Finally, thank you Rick for the way you treated my wife and me in assisting us to understand the reasons for the superiority of your products, in the ease of purchasing our spa, in the ethical way you dealt with us, in the delivery and set-up of our spa and in your accessibility and in the follow-up your kindly provided.

Gary Houser
Very Happy Wind River Spa Owner

Centennial, CO
12/26/2018
We had been thinking about purchasing a spa since this summer, and before visiting Wind River we looked at products from their competitors. We were really having a hard time making a decision until we walked into the Wind River Spas showroom. Tyler greeted us immediately, answered all of our questions, and we walked out feeling great about our purchase. Customer service has been top-notch, delivery was on-time and friendly, and we love our new spa! We will recommend Wind River Spas to all of our (now jealous) friends and neighbors.
Cathy and Harvey Kamionka

Centennial, CO