Testimonials from Aurora Colorado Hot Tub Customers
6/1/13

My first contact with WindRiver Spas was over the phone. Rick answered my call. He asked what I was looking for. I told him that I had back problems and was interested in power jets not huge numbers of jets. He carefully explained how therapeutic the WindRIver tub was and invited me to the showroom. Now this is my 4th hot tub, so I have seen a few hot tub operations. When my wife and I walked into WIndRIver, we were amazed by the showroom. Just hot tubs...no barbeque's or pool tables or patio sets...just hot tubs. A real first class showroom! Rick introduced himself and showed us the the tubs. I wanted something small for a deck off of our bedroom. We looked at several possible tubs. There was no hype or high pressure from Rick. He just wanted to take care of us in a most professional manner...and he did. He came out to our home to inspect the deck to be sure it would be safe. He recommended adding an additional support , which I did. A week later the tub was delivered by WindRiver. The delivery men were polite and they knew what they were doing. The hot tub was up and running within an hour! It has been a couple of months now since delivery. Rick has called and emailed twice to make sure we were happy with the tub and it was working well. Gayle and I have completely enjoyed the "WindRiver" experience! Professional, polite and experts at what they do. As far as we are concerned their high level of service and quality of their tubs cannot be topped. We know how important referrals are to any business. Rick and WindRIver will get our referrals, for sure.

Mark & Gayle Eskanos
Aurora, CO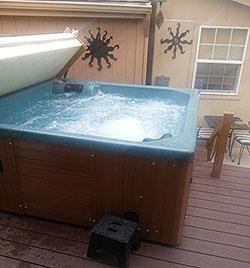 9/17/12

Rick,
We just returned from a week in Pebble Beach and played way too much golf. Lynn and I enjoyed our first tubing last night. It was wonderful. Tonight we're going to chill a bottle of champagne and enjoy some more. Your delivery team was very professional and your service and product is second to none!

Thanks,
Dave & Lynn Padgett
Aurora
Dear Wind River Spas:
We just wanted to take a minute to tell you how pleased we have been with the spa we purchased from Wind River Spas. We have had it for over a year and still enjoy it very much.

From the beginning, dealing with you and your company was completely different than the other companies we had visited. The was no pressure from your sales staff, just good honest advice and you can't beat the "try it before you buy it" approach.

We have recommended your company to friends and family who are considering purchasing a spa and we will continue to do so in the future. Thanks again.

Rick & Roberta Smischny
Aurora, CO
12/31/2013

We made this purchase almost one year ago. I always see reviews of items right after someone has gotten an item. I wanted to give my review after we had gotten this Hot tub and had been owners for over a year.
THIS IS THE BEST PURCHASE EVER!!
My husband says that every time we go in it. I just say, every Day I use it, yes I am in it every day, "AAAWWWwwwwwwwwwwww."
We got this Hot tub two months after I had gone through my second lumbar fusion. I knew that I needed it for my recovery. I needed it to help with my pain management. It exceeded my expectations and more.
When Rick came to our house to discuss his line of Hot tubs, he was extremely helpful in our making our decision. He gave us a suggestion on what he felt would work best for our needs. We picked a model that was TWO STEPS UP for the one he felt would work for us. In other words there was no pressure from him for us to purchase.
I chose his company because of the quality of the Hot Tub for Colorado weather.
We have had friends,Children, Grandchildren and a 71 year old grandmother also enjoy our Hot tub. Tonight after Christmas shopping, decorating and cooking dinner, which had me on my feet for 3x longer than usual there was a light at the end of my pain tunnel, my HOT TUB. I give it a rating of a BAZILLION out of ten. Owners of a little over a year and still as thrilled 12 hrs after it was filled and turned on. Rick and his staff did a fantastic job of getting us into this marvelous tub.

Abby Locke
Aurora, CO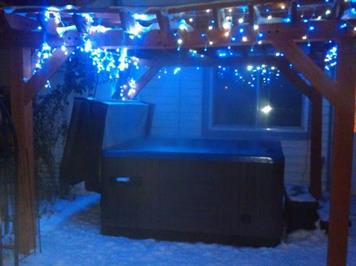 ---
7/12/2014

Rick and the employees of Wind River Spas are excellent. Words really cannot describe the level of quality customer service they have provided. From walking into the showroom to getting into the spa after install they exceeded my expectations. We had an appointment at another "retailer" all set for later in the afternoon we went into Wind River. After researching and watching the videos on line we decided to check out this locally owned and operated business. There was absolutely no pressure to purchase. We could have walked out at any time. We did not want to. The experience was that good. For a little more than we would have paid for a different spa at a different retailer we were able to get a CUSTOM spa built for Colorado not California. Chemical Free to boot! I can go on and on about the spa and the employees that poured the pad, the subcontractor that ran the electric, the owner (seriously, when was the last time you had direct contact with the owner? At any time day or night? Not an exaggeration). If you buy from somewhere else you will be greatly disappointed that you passed up the opportunity to have the best spa you could have. Truly an amazing company and exceptional product.

Richard Greenlee

Aurora, CO
---
---
9/1/2014

Dear Rick,

Let me thank you and the entire"Wind River" team for a great experience ,from the free site visit, wet test and great crane delivery and the electrical.We could not be happier with the total experience. We enjoy the fact that we are as chemical free as possible.

Regards and Thanks,

David & Sharon Dalgleish
Aurora, CO
---
11/4/2014

"We arrived in Colorado from Arizona recently. We have a home with a deck that needed a Spa, so we shopped quite a bit for the right solution. Wind River stood out from the start and in the end was head and shoulders above the other options. The Spa is wonderful – every little detail is done right, it's such a luxury to slip into on a cold Colorado evening - and it's built for the Colorado weather by people that understand what that means. The team behind it is great – knowledgeable, professional and went above and beyond to make sure we were happy. Buying local paid off for us and we highly recommend Wind River Spas."

Scott & Maureen Barnes
Aurora, CO
10/27/15

I waited for a little while to post my review so I would have a more objective view of my purchase. I have now owned my Wind River hot tub for six months and I must say I am thoroughly delighted that I purchased my hot tub from Wind River. It is easy to maintain, it looks good, it's comfortable, it has a unique feature that we love (whirlpool seat) the cost to purchase and to run is more than fair, I get awesome comments from my friends and family and frankly it is one of the best purchases I have ever made. One of the most awesome features of Wind River tubs (the one my wife and I purchased) is the whirlpool seat. I can't say enough about that feature as it is so relaxing and the recliner seats and the other seats are just as awesome. We looked for a couple months for a hot tub before we made our selection and that was the same day we saw the Wind River hot tub. It was different, this was the only one with the whirlpool seat we saw out of literally over a hundred. I was also impressed with it being a local company (created, built and sold) which means the money more or less stays in our community and it's developed for our Colorado environment to help it last longer than many of the tubs mass produced from out of state. They put more into their product than the national chains. That's frankly awesome in my opinion. But on top of that is everything I looked at about Wind River was positive. They have NO bad reviews. You also have people who have had one Wind River, come back and buy a second one. (when they have moved or replaced their old one after twenty plus years) That's fantastic. They go a step above everyone else in my opinion. The owner is really a nice guy and he'll try his best to fit you into what you like and need. Take it from me, (I'm one of the biggest skeptics you'd ever meet) if you are considering a hot tub, go to Wind River, you'll be glad you did. They make a quality product and they will go out of their way to make sure your happy. I can't say enough about how happy we are regarding our purchase.


Clifford Douglas
Aurora, CO
---
4/2/2018


"We shopped all the hot tub stores in town and decided to settle on the best. Totally sold on Wind Rivers Spas as our only choice brand, we purchased the Mesa and were pleased working with Rick and the Wind River Team."

Thanks

Eric and Debbie Mortag

Aurora CO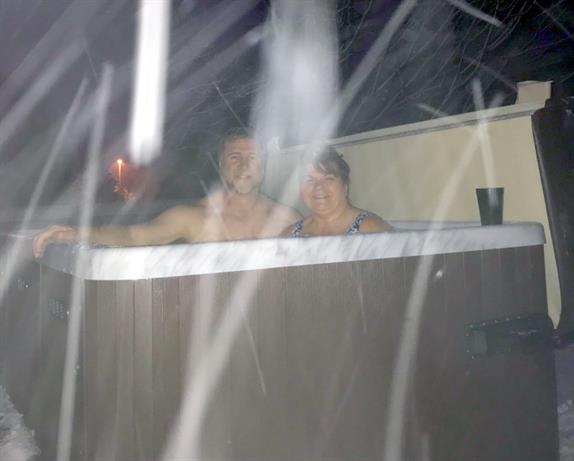 Hot Tubs and Spas Perfect For Aurora Colorado
Since 1978, Wind River spas has been making unique hot tubs and spas that are designed to hold up in the volatile weather that we see in Aurora and Colorado. We are industry leaders in building hot tubs, including custom designs, that will exceed your expectations and hopefully improve your life every day that you use your hot tub. Our hot tubs are manufactured right here in Colorado to withstand our demanding climate. Many of the hot tubs that are on the market today are made at sea level, therefore are not built to last here.
What Makes Wind River Hot Tubs and Spas Superior?
We design the perfect hot tub for your need. You can customize any of our hot tubs and wet test them in our showroom! If you have visited other hot tub stores or dealers you will see the superior quality of the hot tubs we have for sale. We want you to be confident that you are getting the best hot tub for your money.
Visit our Hot Tub Showroom
We have the largest showroom near Aurora for you to see your new luxury hot tub. If you have a tighter budget, you can also see our re-manufactured hot tubs in our hot tub store as well. We won't hard-sell you because our process, installation, and final products are the best in Colorado!

If you need a remanufactured hot tub or a luxury new hot tub spa, we are the best hot tub dealer to work with. Our reputation is second to none, as you can see by our excellent hot tub reviews. Our staff will treat you like family when you walk into our Denver hot tub store. Our prices are competitive, especially given the superior Colorado-designed quality that we create. Get rid of that old hot tub and visit the home of the best hot tubs in Aurora.
02/18/2020
Hey Rick and the Team at Wind River,

It's been a week now since we received our new Wind River Spa and I wanted to take just a second to share our complete satisfaction with how we were treated every step of the way. It was important to me to use a Colorado company if I could because I was certain my experience would be as important to you as it was to me. I was right. It all started with Zach at the showroom who was generous with his time and made sure we understood everything about the choices we had in building our own spa. He never tried to sell us more than we needed but made us comfortable with the process and smarter along the way. And then Wind River crew that showed up at the house to take out our old hot tub and deliver the new was amazing! The day they came there was about a foot of snow on the ground at our house yet from the minute they got out of the truck until the moment they left they were smiling and making sure we were educated on filling and using our new spa and their positive attitude on a less than desirable day made us all feel better!! And oh yea, we've been using the spa for almost a week now and we LOVE IT!!! It is everything we hoped for and more and we sure are seeing the kids and grandkids more often!!!! Thank you Wind River Spas for building the perfect spa for us.

Rick Crandall

Aurora, CO
Wind River Spas Testimonials By City

View Yelp Reviews >

View Google Reviews >