Deer Trail, Colorado Testimonials
---
---
---
---
10/07/2020
This may be a long review, but I really wanted to detail our great experience with Wind River.

After moving we decided a new hot tub was in order. Left a 20 year old Jacuzzi behind at the old house. First place we went was to a "tent sale". That was an appropriate name since it was like a circus. Incredibly overpriced hot tubs and a salesman who was a "clown". High pressure to the max.

So, I began an online search. First thing that bothered me was a lack of online pricing except at the "big box" stores. And almost every unit at those places were out of stock and I REALLY had concerns about some freight truck just dropping a super heavy spa in the driveway and leaving. So, a company that would deliver the spa was important to me. I had heard of Wind River many times since I am a Colorado native. I always thought they would be way out of my price range due to their reputation.

Surprise, surprise! The wife and I "built" a spa on their website and at the end there was the exact pricing. Affordable for our budget and way lower than at the "tent sale circus". So, we placed the order and put down the refundable deposit. With everyone stuck at home there is a waiting line for spas. And a refundable deposit was obviously a win win situation.

Wanting to see the spas in person we went to the showroom in Englewood a couple of weeks later. Glad we did since we found my wife is short and had trouble stepping into the spa we chose even with the stairs. We talked to the sales rep on the floor and downgraded to a smaller spa. Simple, easy and no argument even though the spa we changed into was much less expensive than the one we originally ordered.

A couple of weeks spent pouring a concrete pad and having the electrical installed and we were ready and waiting for our delivery. I thought I would call to let them know we were ready in case they had any cancellations, and we were in luck. Rick Hallett, the owner, said just that morning he had received an email from a customer wishing to put off their delivery for three weeks. He went to the trouble of changing the production order so our spa could be built and delivered almost a month earlier than originally scheduled. It is definitely a good idea to call Wind River if you are prepared early, they just might be able to move up your delivery date. Had several email conversations with Rick before the delivery and he was always super responsive and answered all my questions.

The delivery itself went incredibly smoothly. The delivery crew consisted of Rick's son Zach (discovered this truly is a family business) and another young man named Cody. They were friendly, efficient and had the spa placed in no time. We began filling while my electrician, who was onsite for the delivery, hooked up the spa. Then Zach went through a really comprehensive explanation of the control panel and answered any questions we had as the spa went through its startup sequence and Cody assembled the cover lifter. I would highly recommend purchasing the cover lifter…the cover itself is extremely well made with really thick foam and isn't a light piece of equipment to move around if you're older like we are.

The spa itself is fabulous as well as beautiful! The jets are super powerful compared to my old Jacuzzi. The seating areas are well designed and comfortable. We have used it every night since it was delivered, and the water is still crystal clear with just following the instructions of adding a teaspoon of the dy-chlor.

To sum it all up you can't go wrong buying a spa from Wind River. This has probably been the best experience we have ever had in purchasing a fairly large ticket item.

Thanks Rick, Zach, Cody and the entire Wind River gang that made our spa possible!

Deer Trail, CO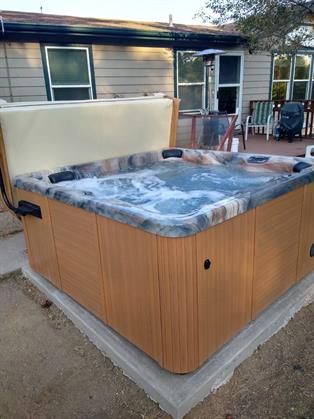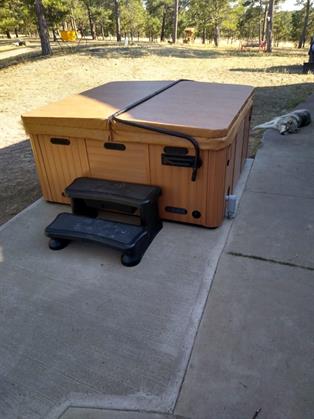 Wind River Spas Testimonials By City

View Yelp Reviews >

View Google Reviews >