Wind River Hot Tubs and Spas
At Wind River Spas, our customers are at the heart of everything that we do. In a culture where business and stress are unavoidable, our goal is to bring relaxation into the lives of each of our customers. As a family-owned business with over 40 years of experience, we want this relaxation to begin the moment our customers walk through our doors. We combine leading hot tubs with excellent customer service to make for a memorable and stress-free experience.
Walking into our large Denver hot tub showroom is like stepping into a beautiful and quiet Colorado glade. We believe that shopping for a new hot tub should be a fun and relaxing experience. With the largest showroom in Denver, our customers are able to choose from many different superior Colorado-designed models. At Wind River, you can customize any of our hot tubs to fit the unique needs of your family. Our new showroom provides the opportunity for you to wet test each product to see the superior quality for yourself. There are options for every budget, with competitive prices and a great selection of in-stock models available for immediate delivery so that you can begin enjoying your luxurious new hot tub (spa).
At Wind River Hot Tubs and Spas, we aim to stand out in the Denver hot tubs and spas industry by exceeding our customers' expectations. The quality of both our products and our customer service is the best in Colorado because we truly care about our customers. Join the Wind River Spas family today by visiting our showroom to see the best hot tubs in Denver, and discover the true meaning of luxury.
Love the new tub. The raw wood exterior is awesome. Glad we did that. It's a unique touch that so far everyone has admired. Still smells like fresh cut lumber 5mo later. We're dialed in now and it's exactly what we hoped. Another WR winner!! So, Thanks!
Colorado-Designed Hot Tubs and Spas
Our mission of being the best hot tub dealer and improving the quality of our customers' lives begins with manufacturing carefree spas that are specifically designed for use in Colorado's demanding climate. In an environment with frequently shifting temperatures, harsh UV light, and curious wildlife, a new design was needed to be able to stand up against all of these factors. When compared to the products from other spa dealers and hot tub stores, our Colorado hot tubs and spas last longer, sustain less damage from weather and wildlife and use less energy. In addition, our state-of-the-art filtration systems mean that you will experience the clean and clear water of a chemical-free hot tub.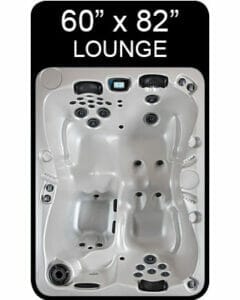 M-F 9am-5pm   Sat 10am-5pm
WIND RIVER SPAS
DENVER'S #1 HOT TUB MANUFACTURER
2940 S Galapago Englewood, CO 80110