History
Wind River Spas has been manufacturing affordable Colorado hot tubs since 1978.  The company started in owner and founder Rick Halletts garage and has expanded to today's only hot tub and spa manufacturing facility in Colorado.  The company has continued to offer the best hot tub prices and a variety of money-back guarantees.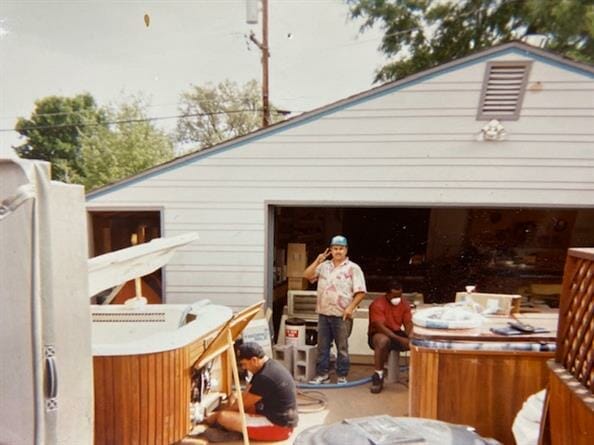 The History of Wind River Spas
What began as a day job turned into a lifelong passion and a way of life for the Hallett family. Rick Hallett began learning the hot tub industry in Michigan in 1978 by installing hot tubs for a local hot tub retailer. During a decade that was paving the way to world-altering technological advancements, Hallett was part of an industry that would shift and grow with the changing culture. In the context of so many developments, it was important to be able to grow with the times, and that is exactly what Wind River Spas has been able to do. 
After moving to Colorado, Hallett began selling new and used hot tubs out of his garage. However, it soon became clear that Coloradans were eager for a unique product– one that was built for tough winters and hot summers, and that was able to meet the need for chemical-free spas. Hallett wanted to provide the best products and services for each customer while also being able to keep the doors open, a balance that can be difficult to strike. This is why, when the opportunity arose to purchase a local hot tub manufacturer, Hallett jumped at the chance to be able to have more control over his product. 
Since that major change in 1999, he and his team have been working hard to create the type of product that is more suited to Colorado's unique climate and is at the very cutting edge of technology when it comes to filtration advances, lighting, covers, and smart controls. Their goal is simple: to make a product that benefits the customer both in the short and long term without being held back by industry expectations and the drive to make more money. 
As both manufacturer and retailer of their amazing products, Wind River Spas is able to bridge the gap between the manufacturer and customer. They avoid many of the limitations that plague other retailers and are able to sell the product that Coloradans want: a hot tub that is chemical-free, durable, and able to withstand Colorado's harsh winters. Today Hallett, his wife Kathy, and their two adult children, Zach and Kenna, work hard to meet every need of the local community through friendly customer service and unbeatable quality. 
Choosing Chemical-Free Water Purification
For more than twenty years, the team at Wind River Spas has been using ozone technology to achieve chemical-free water in all of their hot tubs. This is a bold move in the hot tub industry since a large portion of hot tub profits come from the continual purchase of chemicals to keep the water clean. However, meeting this need in Northern Colorado was essential because of the growing awareness and concern regarding the potential health effects of soaking in chemically treated water. While many retailers across the country are backed into a corner and have to specialize in either bromine or saltwater hot tubs, Wind River Spas' unique business model allows them to install the best ozone systems in addition to the 24-hour filtration that is standard on every model. 
Creating a Great Working Atmosphere
For Hallett and his family, serving the community well is a long-term business model that comes with unique challenges. Instead of focusing solely on present profits, Wind River Spas operates with an eye to the future of their company. Running a business with honesty and integrity is certainly the road less traveled, but Hallett's long-term vision has resulted in one of the best working environments in the area. By paying high wages and creating a good atmosphere, employees both in the warehouse and the showroom stay for years and truly become a part of the family. 
At Wind River Spas, 30% of their business comes from referrals, and a large portion of the remaining percentage comes from returning customers. To Wind River Spas, reputation is everything, and they set high company standards for customer care so that every family walks away with a quality product and years of follow-up support.  
Weathering the Storm
The true mark of the quality of a business comes from the way it weathers storms. Wind River Spas has been through several times of economic turmoil such as the financial crisis of 2008 and now the 2020 pandemic. Their commitment to always meeting the needs of their customers and being flexible has allowed them to keep their doors open even during hard times. 
Stay-at-home orders and additional stress led to high demand for ways to relieve that stress and spend quality time with the family. In order to safely keep up with this demand, Wind River Spas developed their online build and price virtual showroom that allows customers to browse, purchase, and have their hot tubs delivered contact-free. This combines the ease of online retail with the quality of Colorado's best hot tubs. 
The Wind River Spas Showroom
Walking into Wind River Spas' new showroom is a unique experience in itself. The showroom allows the customer to see what each model will look like when paired with decking, lighting, and landscaping. This new layout helps each customer to make a better decision for their home and it also makes for a more indulgent shopping experience. The children's playroom is a helpful addition that provides entertainment for the kids, freeing up parents to make informed decisions.  The goal is for every person to feel like they are at home while browsing hot tubs, and Wind River Spas has worked hard to make this a reality.
Building this unique family-owned business has been what Hallett has called a "long hard road." He and his team have had to make challenging decisions between what was easy and what would benefit customers and employees in the long term. These bold decisions have led to a company that truly stands out, both in terms of care for everyone who walks in the doors, and the quality of their products. They are the future of the hot tub industry and a model for any company that is striving to put its customers at the center of its business model. For the Hallett family at Wind River Spas, having the courage to push the boundaries of their industry has led to a family legacy that benefits the next generation and the community at large.