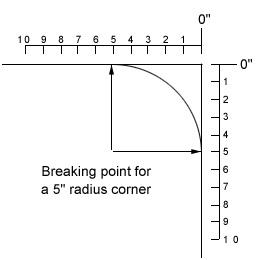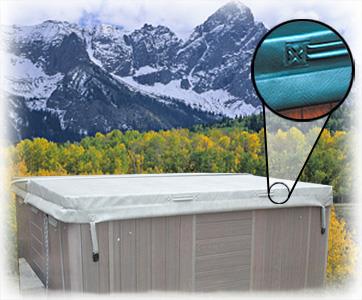 Covers

Spa covers are made with a laminated core that consists of 2lb density polystyrene foam on the bottom and layer a 2lb density 1" thick foam fiberboard on the top.
" 28 0z Marine Grade Vinyl
" 12 oz double laminated bottom fabric treated for mildew, ozone and chemical resistance.
" 4" to 2" tapered foam core , no corrosion, strong and light weight.
" UL approved safety covers.
" 3 year warranties on materials and workmanship.


Wind River Spas Cover 1000S:
$475.00


***custom cover prices may vary
Cover Colors
• Attractive
Sleek, low profile, ergonomic look complements any spa.

• Easy to Use
Even the smallest of spa users can operate with ease.

• Space Efficient
As little as 10 inch clearance behind the spa is needed. Fits up to 8 foot spa.

• Simple Design
Proven to be absolutely trouble-free, with only one moving part and a built in stop mechanism.
$275.00
• Durable
Made of powder coated aluminum providing years of trouble-free maintenance.

• Variable Mounting
Able to be deck-mounted or directly mounted to the spa cabinet. Fits up to 8 foot spa.

• Space Efficient
Ideal for spas housed in gazebos or when space behind the spa is limited—only requires 5 inches clearance.
$375.00
How to measure for a new cover for your spa.
In order to get the right size cover for your spa you need to measure the length, width (the distance of the seam), the radius of the corners, the height of the spa lip or flap, and the color.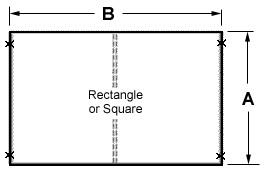 For this particular shape we will require all of the measurements shown.
Measure the outside edges of the spa shell.


A:
Width or Hinge Length - distance from one side of the seam to the other.


B:
Length - distance from one side of the spa to the other.

It is better to be slightly too big than too small.
How to measure a radius corner
You will need two rulers or yard sticks (a framing square is a great tool to use). Place them at a 90 degree angle on the
outside
edge of the corner with the "0's" together. You will measure from the 0" mark to the breaking point "where the corner starts to curve".

From the 0" mark to the breaking point is the size of your corner radius.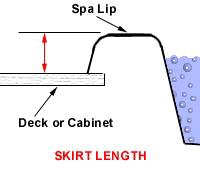 How to measure skirt length
We also need to know what length of skirt you need around the edge. Standard skirts are 4" inches unless you need more or less.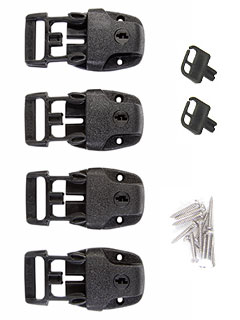 COVER HARDWARE SET - $10.95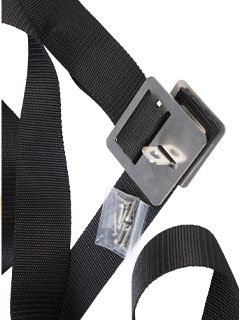 SECURITY STRAP - BLACK - $59.63

These handy straps serve a variety of functions. Small children or curious teenagers? Security straps prevent anyone from gaining unauthorized use of the spa. High winds or stormy climate? Security straps keep your cover safely in place without the risk of it blowing away and causing damage to itself or the surroundings. Our set of two straps will adjust to fit almost any spa model.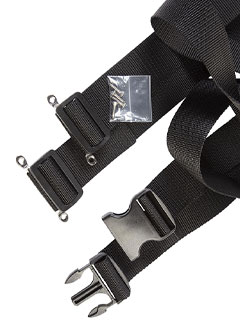 WIND STRAP 12' TIE DOWN - $32.63

The Best wind strap available today. Each strap includes 12 feet of two inch wide adjustable polypropylene strapping providing superior UV resistance. Stainless steel and heavy-duty acetal hardware providing maximum strength. This strap can be mounted to the spa cabinet or platform decking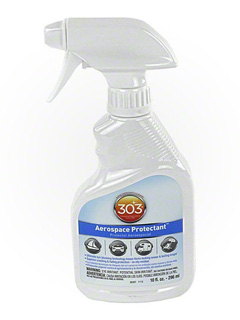 303 Aerospace Cover Protectant - from $17.95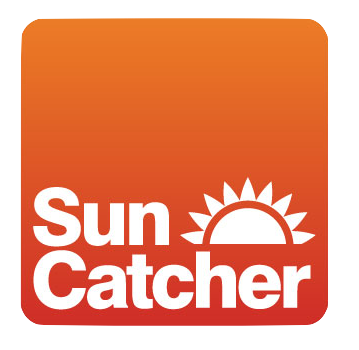 • SunCatcher™ is a 100% solar powered spa cover
• Uses solar energy to heat the water in your spa
• Reduces heating costs by 50 - 75% per month
• Easy to self-install just like any spa cover​
• An eco-friendly spa heating option
Price: $900

Visit https://www.aztenergy.com/ for details