Description
The ONLY spa covers available with …
Our Patented Welded Seam Sealing Process. No sticking or zippers to degrade or leak. Best barrier available for protecting the foam core from moisture,
mildew and bacteria.
Laminated foam core for superior snow load and temperature control.
Superior materials are used to include 28 ounce Marine grade vinyl top fabric, available in 16 color and 16 ounce double laminated bottom fabric.
UL tested and approves ASTM Safety Covers.
Child safety locks on all models.
4" to 2" super taper for maximum water run-off.
Multiple piece covers for spas of most sizes.
Covers custom manufactured to your specifications
Covers
Spa covers are made with a laminated core that consists of 2lb density polystyrene foam on the bottom and
layer a 2lb density 1″; thick foam fiberboard on the top.
– 28 0z Marine Grade Vinyl
– 12 oz double laminated bottom fabric treated for mildew, ozone and chemical resistance.
– 4″; to 2″ tapered foam core , no corrosion, strong and light weight.
– UL approved safety covers.
– 1 year warranty on materials and workmanship
Wind River Spas Cover 1000S: $475.00
***custom cover prices may vary
How to measure for a new cover for your spa.
In order to get the right size cover for your spa you need to measure the length, width (the distance of the seam),
the radius of the corners, the height of the spa lip or flap, and the color.
For this particular shape we will require all of the measurements shown.
Measure the outside edges of the spa shell.
A: Width or Hinge Length – distance from one side of the seam to the other.
B: Length – distance from one side of the spa to the other.
It is better to be slightly too big than too small.
[/one_half]
How to measure a radius corner
You will need two rulers or yard sticks (a framing square is a great tool to use).
Place them at a 90 degree angle on the outside edge of the corner with the
"0's" together. You will measure from the 0" mark to the breaking point "where
the corner starts to curve".
From the 0" mark to the breaking point is the size of your corner radius.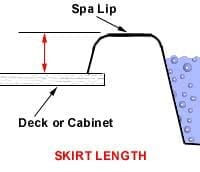 How to measure skirt length
We also need to know what length of skirt you need around the edge.
Standard skirts are 4 inches unless you need more or less.